History
In 1950, Ace Metal Refinishers, Inc. was founded by Gordon Swanson, then an 18-year-old freshman at Northwestern University. His business plan was to provide high quality, dependable service, at an affordable price, for the maintenance and refinishing of architectural metal in banks, office buildings and hotels in Chicago and the surrounding suburbs. Almost sixty years later, in its third generation as a family business, Ace Metal has expanded its operations to cities throughout the United States, setting ever higher benchmarks for customer service, equitable pricing, and superlative quality in metal refinishing.
Over the years, the operation of the company has changed dramatically. The highly competitive environment of the marketplace has demanded new programs, new finishes and techniques, more highly skilled technical personnel and professionally prepared managers, along with higher levels of accountability at every level. In many areas, we have been pioneers, and industry-wide acceptance has often transformed our innovations into widely accepted standards.
We originated the concept of programmed metal refinishing, which was welcomed by building owners and managers as a way of budgeting the expense of maintaining the condition and appearance of the metal.
We introduced new clear coatings to protect bronze, stainless steel, and duranodic aluminum finishes, and developed an unprecedented system for oxidizing bronze in the field.
We responded to the resurgence of bronze and stainless steel mirror finishes with breakthrough techniques for refinishing and repair.
We voluntarily initiated unprecedented standards in safety equipment and work practices for the protection of our employees, our customers and their tenants. Almost all of these safety standards are now mandated by OSHA regulations.
Ace Metal continues to innovate, always responding to the challenges of the rapidly changing business climate, always true to our original business plan, and always responsible and accountable to our customers and our employees.
The image to the left is a photograph taken in front of the Abercrombie & Fitch store in Chicago, 1950. Pictured is the original Ace Metal service vehicle, a 1950 Chevrolet
Panel Van.

View a larger version of the image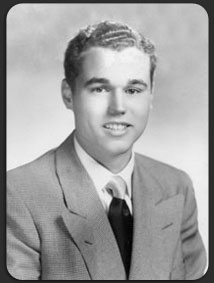 Ace Metal founder Gordon Swanson
pictured in 1950



An Ace Metal crew refinishing the entrance and sign plaque at the Capper & Capper store
in Chicago, 1950.